I promised on LJ that my next post would be a roundup of all the things I made for Christmas gifts. Then I decided that I should throw a blog onto my regular site, so I could post exclusively about the stuff I made, and not include so much whining about other things in my life. I guess this decision could backfire a bit – I show up on LJ friends lists, so I theoretically have an audience there, and no promise of an audience here. Whatever. Blah blah.
So, hi. This post will be long and image filled.
Here's the stuff I made for people for Christmas. I made approximately 80% of the gifts we gave. I tried to make thoughtful, personal things, but definitely had some panic moments and threw in some generic Christmassy stuff.
I made ornament sets for all of my aunts and uncles, and my older cousins. I did some drawing/embroidery with my sewing machine and some felting.
On my mom's side, everyone got one of these: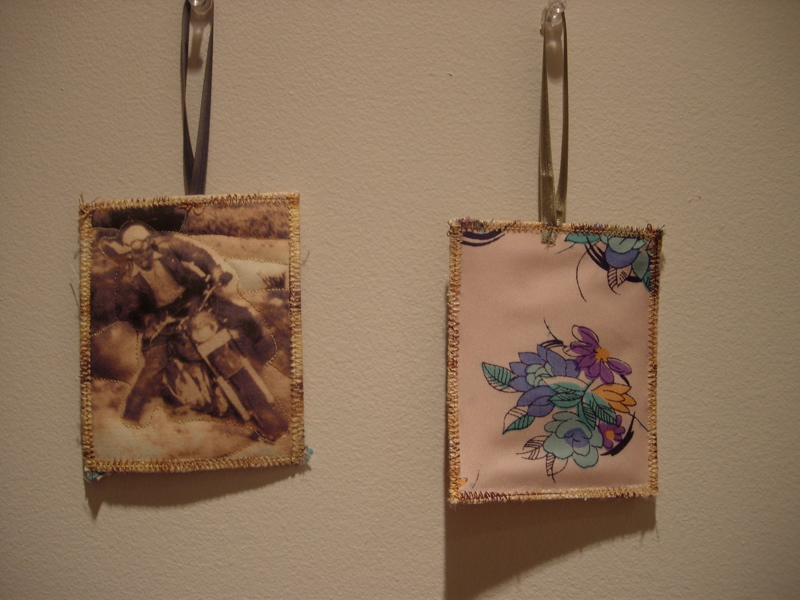 The front is an image from 1950(?) of my grandfather in a motorcycle race in the Pine Barrens of NJ. The photo was printed on thin inkjet fabric, then fused it to another thin cotton, and put it over some poly batting with a cotton duck back. I sewed along some lines in the photo, and then cut a piece from his beloved hideous fleshtone polyester shirt (ubiquitous in family photos) for the backing. Overlocked the edges and added ribbon for hanging. I need to make a few more of these.
The sets:
Uncle

Aunt and uncle


(the pinball machine is my favorite, I think)
Aunt and uncle

Aunt and uncle

Uncle & his girlfriend

Cousin & her husband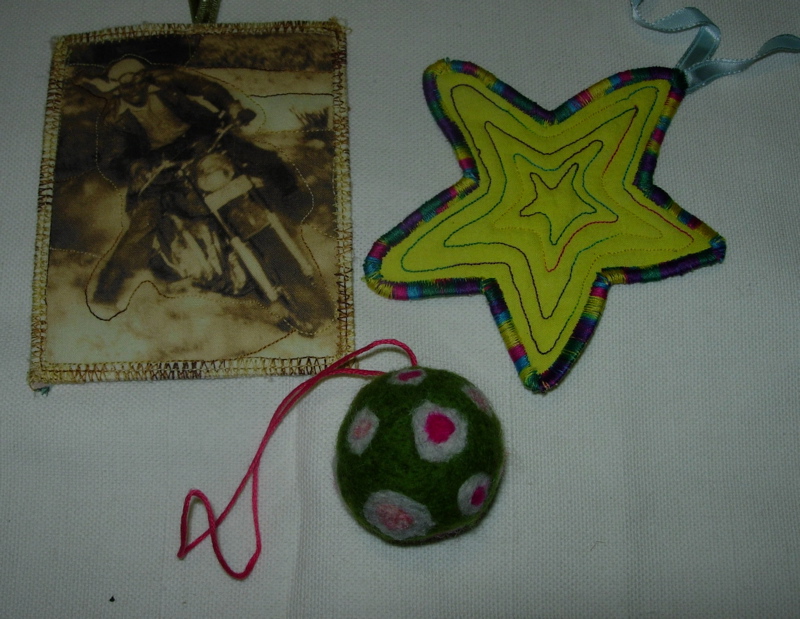 Cousin & his wife

Cousin's two toddlers each got a six-page coloring book I had made (just Kinko's) from my drawings, and a crayon roll with her name embroidered on it.

18 year old cousin

13 year old cousin


both bags made from belle epoque's bias tape tote tutorial
16 year old cousin


from a knitting needle roll tutorial whose provenance I cannot remember
11 year old cousin


from Super Cool Wallet tutorial
We wrote out definitions from the board game Balderdash, and I laminated them and put them in the card slots, because my cousin thinks they're the funniest thing in the world.
Boyfriend's parents:


Same method as the ornaments of my grandfather, just with pictures of their dogs instead.
NP: Small wallhangings of my brother and his girlfriend and my boyfriend and I for my dad's mom.
Phew.